September 26, 2011
A couple of years ago I decided to cut off all of my hair. It had been relaxed for as long as I could remember, and I thought I'd have more options with hair that I could wear either curly and thick or straight. So I chopped it at the roots. It grew faster than it ever had. It was like silk when it was flat ironed, but when it wasn't, nobody could tell me what to do with it. "You can either keep this… or we can put a relaxer in," my hairdresser said to me almost twelve months along. As much as I wanted to avoid chemicals and keep my hair natural, I decided that it wasn't worth sacrificing my appearance for the sake of it. I felt that there was no alternative to relaxers...until I discovered that I love Lulu.
A restored commitment to living a green lifestyle left me thinking about my hair. I started by changing my diet, and the next logical step was to stop putting chemicals that I couldn't name on my head. The thought of them slowly seeping into my scalp made me cringe. While doing neighborhood errands one day, I walked by I Love Lulu, the self-described "growing green hair spa." The cheerful, bright sign and steamer in the window caught my attention, and I realized that perhaps the solution to my hair care problems had always been just around the corner. I went inside, poured my heart out and booked an appointment – reassured that Lulu would fix everything.
Lulu Marcelin comes from a large family of creative individuals. This shows in the aesthetic of her shop, a contemporary spin on classic 1960's décor. It looks like Renee Zellweger's character from Down With Love is going to pop up from the shampoo bowl next to you, thanks to the artistic flare of one of Lulu's sisters. The poetic rhymes of another sister, a writer, scroll across the walls, reminding you why you came: "Happy is the woman who … honors her hair."
Knowing this, it's not surprising that Lulu brought her own creative vision to hair care and styling. In fact, she will tell you that her business grew from two clear concepts. The first idea was to take fresh fruits, vegetables, natural herbs and oils and put them into hair in a quick and easy fashion, like "Jamba Juice for the hair." The second piece came to her in a dream: ten steamers in a row. In the actual spa there is only room for nine - the tenth sits in the window on the street, representing Lulu's dream to desperate passersby like myself. At first, people questioned these concepts, asking Lulu what would keep anyone from creating her personalized, organic treatments themselves, and why anyone would want to sit under a steamer when the purpose is to dry the hair. Lulu's response was as simple and straightforward as her approach: "There is a professionally trained touch that needs to accompany the treatments in order for them to be as effective as possible." She also pointed out that sucking the moisture out of hair with dryers is counter-intuitive, if you think about it. Using a steamer instead helps keep moisture locked in, resulting in smoother, conditioned hair.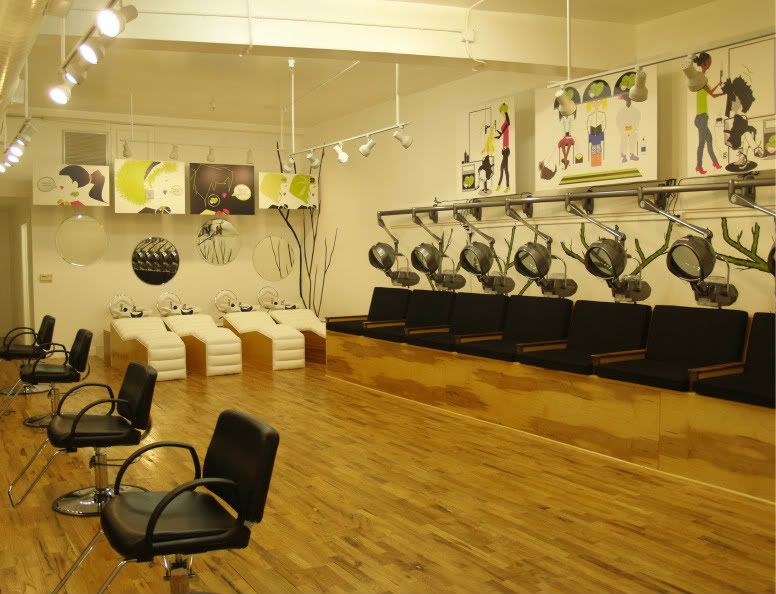 The first time that I went to Lulu, I got a life. No, really - I received her "Get a Life" treatment. After diagnosing my hair's medical condition (which she does at the beginning of each appointment), this was the treatment that she suggested. "Get a Life" is oil based and applied straight to the scalp. As Lulu parted my hair and applied the oil, she explained that the focus is often on putting oil onto the hair, which is already dead, rather than on the scalp, where your hair actually grows. She broke hair care down into common sense terms. It made a lot of sense, and I wondered why no one had simply told me these things before.
After the treatment was applied, I sat under the steamer to let the oil seep into my open pores. Usually, I loathe the dryer. I leave hot, tired, and annoyed, but Lulu's steamers left me feeling moisturized and refreshed. I also thoroughly enjoyed the shampoo chairs, which are more like beds, where you can lay down without having to prop your head back into an unnatural position. Lulu had truly put thought into every element of her salon and designed a process that put emphasis on a healthy, rehabilitating experience rather than fighting hair's nature by styling with chemical products. That's not to say that Lulu can't style hair though. After I looked at my finished head in the mirror, there was no looking back to other salons. Of course, nothing good comes without sacrifice. My hair is a bit more work than it once was, but Lulu's words are always in my ear: "Take it. You'll never regret it." And I don't.